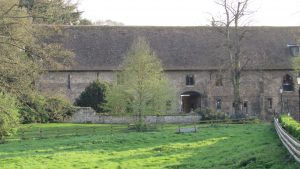 The package price of $1325 includes all accommodations with breakfast and dinner every day, plus snacks after the dances, starting with dinner on Friday, April 5, 2019, through breakfast on Friday, April 12, 2019.  It also includes lunch on the first full day, Saturday, April 6, 2019.  We offer no guarantees but we will do our best to accommodate your housing preferences; see the accommodations page.
During the day, visit the many local sights, including the museums, medieval buildings, West Tower and Lantern Tower of the cathedral, antique center, river walk and boat rides, Sandringham Palace, Castle Acre, Wandlebury ring (an ancient hill fort), the crooked houses of Lavenham, the mines of Grimes Graves, windmills, pubs, coastline and many hiking trails in the countryside, or visit Cambridge (16 minutes by train), or London (70 mins. by train).  There will be an introductory meeting on the first morning to learn about these, and the organizers will help with arrangements.  There will also be a bulletin board with tour options and sign-up sheets.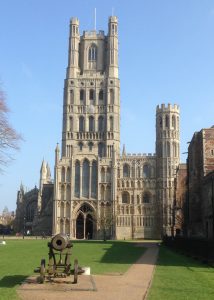 In past years, many people have enjoyed some of the services in Ely Cathedral which are accompanied by chorister singing and one of the finest pipe organs in the world.  We have also arranged for a private organ concert for our group and aim to do so again.  The cathedral web site contains schedule details.
A deposit of $150 ($100 refundable if you cancel before Nov. 30, 2018) will secure your spot for this dance week, with a further $600 due by November 30, 2018 and the balance of $575 by February 22, 2019.  Registrations will be accepted on a first come, first served basis, but note that no registrations will be accepted with postmarks earlier than February 1, 2018.  Participants are responsible for arranging their own transportation to and from Ely; check our transportation page for information.
Please note that a no-smoking policy applies to all the buildings and accommodations that we will be using for this dance week as well as in public places in England such as cafes, restaurants and pubs.
To register please download the registration form and mail it to us. You can also scan it and e-mail a pdf if you prefer.  Each person should fill out a separate form, but roommates can be indicated on the form.
Cancellation Policy: While $100 of the deposit is refundable (see above), the fee (or parts of the fee) is non-refundable except at the discretion of the committee and is dependent on our being able to fill your spot. This is because of our contract with the school, and is why we suggest travel insurance.